Geppi Family Enterprise brands source, distribute and design collectible products across multiple categories including comics, graphic novels, manga, plush, busts, statues, prop replicas, board games, card games, miniatures, role playing games and thousands of gaming tools and accessories. We bring people and the world's best storytellers, games, toys and collectables together to help shape a culture where we're all more deeply connected.
Our Leadership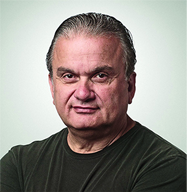 Steve Geppi
Founder, President, Chairman, CEO
Born in the "Little Italy" section of Baltimore, Maryland, Geppi turned his childhood love of comics into the world's largest distributor of English language comic books.
Steve learned at an early age the importance of hard work having had to leave school to support his mother. As a young man he took a job with the U.S. Postal Service. Then, with nothing more than a hobbyist's intuition, he realized he could earn a better living selling comic books than at his job with the postal service. He opened a small store in the Baltimore area, which quickly expanded to four stores. He subsequently moved into the comic book distribution business by purchasing a failing distributor. Armed with an extraordinary memory and intuitive sense of people, he successfully expanded his distribution business throughout North America and Europe.
Our History
Geppi Family Enterprises' roots can be traced back to 1974 when Steve Geppi, a native of Baltimore's Little Italy, opened one of the area's first comic books stores, Geppi's Comic World. In 1982, he founded Diamond Comic Distributors with one warehouse and 17 retail customers. Since then, he has grown GFE into the company it is today – multiple pop-culture-related brands in the US and the UK that provide a multi-channel platform of publishing, marketing and fulfillment services, coupled with an unparalleled global distribution network for retailers, publishers and vendors. What started as one man's hobby has evolved into the largest distributor of English language comics, graphic novels and pop culture related merchandise worldwide
Our Brands
Geppi Family Enterprises, together with its brands, is a leading, diversified international enterprise with multiple business segments. We entertain, inform and inspire people around the globe. Learn more about our brands here.